One of my favorite times of the year is spring. Springtime in Idaho has to potential to dish out any type of weather, at any given time, for just about any duration. It is uncertain and ever changing, just like life. Springtime is also Pocatello 50 time. Par for the course, uncertainty was in the air as this years race approached. The course conditions looked to be difficult, especially considering the more than 300% above average snowpack in the Portnuef range. The weather was particularly fickle, even for Idaho, but if you didn't like it you could wait five minutes because it would be different. The weather forecast seemed to change about every six hours the entire week leading up to the race. Finally there is always the uncertainty of one's performance in the race. This one seemed to occupy my thoughts a little more than usual, mostly because of fewer training miles this year than the last couple, but far more time training (mostly skimo). I was uncertain and concerned about how the skimo training would transfer over to a tough springtime ultra.
Start finish area for the Pocatello 50
At the preface meeting I had the pleasure of seeing lots of Pocatello locals who had been working hard together ready for the this years race and was excited to see several very strong ultra runners who had come from all over to sample the trails of my backyard. Having so many strong runners on sight also increased my nerves a bit, the race was going to be fast and furious!
Race morning came early, but with what appeared to be favorable weather, though I was leery because of the frequent changes. I choose to run with an UltraSpire race vest so I could carry a jacket through the early legs of the race. Right on the hour Ryan McDermott, one of the fantastic race directors, sent us off. The first mile on the pavement was very controlled but still separated off a small lead pack as we headed onto the single track. Ryan Burch and Dakota Jones lead the charge, with myself, Mike Foote, and Zach Miller a little ways back. The chase pack shuffled around a bit, absorbed Ryan, but Dakota stayed out front. Mike and I commented that we both wanted to run very controlled early and we ended up running together into the city creek aid station.
Mike and I coming into the City Creek Aid Station
I snuck out of the aid station just ahead of Mike and about two minutes after the start of the 50k. I worked my way through a bunch of the 50k runners in the lower city creek trail and Mike caught me just before the upper city creek section. Zach had blown off the front on the descent before city creek, as well as Ryan. Mike and I caught Ryan just before the bottom of the Barkley Section, I busted out my new Black Diamond Ultra Z Poles and pulled away on the ascent. I stopped at the aid station at the top for broth and Mike blasted past, Ryan passed me during the first 1/2 of the descent. At the bottom of Midnight I stopped briefly to empty my left shoe of a very annoying rock and to take a sip from the Monument creek. I had a slight low because I hadn't eaten EFS Liquid Shot with the broth, I hit a little extra and got on my way. Just before the West Fork aid station (mile 32), my good friend Fast Evan Honeyfield caught me and we ran together for a while before and after the aid station, that is until he dropped me.
Evan about to drop me on the climb up Valve House
On a side note Evan dropped me on the same hill that he did the first time we met and raced each other at one of the fall Pocatello Trail runs. On the long climb up to the east fork of scout mountain trail I seemed to have lost a couple of gears and ended up just grinding up the climb. I got a good boost of energy just before the out and back as I caught up to my amazing wife, who was running her longest trail race (or longest run). With the adrenaline boost I picked up the pace towards the aid station.
Stuck in one gear just outside of the Scout Mountain Aid Station
I took a few minutes at the aid station to fill up the water in my pack and eat a little real food. The legendary Roch Horton made quick work of my stop, with help from my brother in law Casey, and in a snap I was back on my way. I climbed back up to the junction feeling a bit stronger. It was great to see so many other runners on this section, the format had all three of the distances in this section and it was great to encourage and get encouraged by all of the familiar faces. Just after the out and back Glen Merril, an amazing runner, dad, and all around good guy, caught me and we agreed to push each other, he pushing on the descents, and I on the ascents. This arrangement really lit my fire as Glen was really rolling on the descent. We passed a bunch of other runners on the way down and made great time back to the West Fork Aid.
Glen and I pulling out of West Fork heading into the last 7 miles.
I dropped the pack at the aid station and grabbed one of my favorite handhelds ever, made by UltraSpire. Glen rolled out just behind me and we climbed up west fork together for a bit, until eventually I pulled away. I had hoped Glen would be able to stay on, but I was feeling really good and put the hammer down. The whole race I was focused on staying controlled until the last 15 miles. With Glen's help we hammered down the 7 from the aid station, and now it was my turn to push. I focused on reeling in runners ahead of me and pushed on through some tough sections. When I finally topped out on Corral Creek, I noticed that if I really pushed I could maybe go under 9:15 which would be a 40 minute PR. I started rolling the downhill, I passed Pocatello legen Rick Goode, got some great stoke, and kept pushing. I hit the road and with 1.5 miles left and a quick glance at the watch new if I really pushed I might go under 9:10. I leaned down the hill and as best I could dug in. I ended up crossing the finish in 9:09:45' more than a 45 minute PR and in 6th place.
Overall I am very stoked with how my race went. I finished 7 minutes faster than Dave James' course record, which was right where I had hoped to be. The course conditions were tough and I would have never guessed that Dakota would have been able to put up such a solid time, nor would I have thought that there would be 6 runners under the old CR. I was surprised how I felt throughout the whole race, which was really good for the most part.
After the race I had the opportunity to give out full bottles of First Endurance Ultragen to runners as they finished the line, it's very nice to be able to share with fellow runners something that works so very well for me.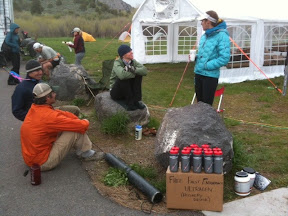 Just a few of the happy runners recovering with the help of Ultragen
I have to mention the run of a good friend, Travis Taylor, who finished the full 50+ mile race after two previous attempts. Although he had some foot issues he rolled in with a smile on his face!!
Gear for the race:
shoes: La Sportiva Crosslite
Shirts: Green Layer Long sleeve and short sleeve La Sportiva race jersey
Shorts: Patagonia long haul runners
Pack: Ultraspire surge, Ultraspire handheld
Food: EFS wild berry liquid shot, EFS mild grape drink, Ultragen fruit punch recovery drink at the finish.
- Posted using BlogPress from my iPad